In my Auntie Carla's kitchen (the same one of the delicious green sauce, right), there was a big silvery book full of recipes from the 1920s. The book had been written for ladies of the medium-upper class who wanted to entertain a quality social circle with the help of one or more maids, but no cook. To twelve year old me, the world portrayed by that book was the maximum of sophistication. I remember this recipe especially well because it ended a glorious New Year's Eve feast full of aspics and canapés and other wonderful things. I tried it on years later and I realised that not only is it delicious, but it can also be preserved really well for quite some time. And you don't need to be a Milanese high society starlet to offer it to your friends.
10 tangerines – ripe but not too much
2 tablespoons granulated sugar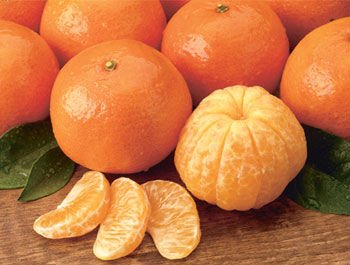 Peel the tangerines without splitting the segments. Throw away all the peels but 2, which you will cut in thin, long stripes (as thin as you possibly can). Then cut the tangerines horizontally (i.e. so that you obtain two halves made by one half of each segment) and lay them face down onto a plate where you will have sprinkled all the granulated sugar. Set aside.
In a non-stick saucepan, melt the icing sugar in the Grand Marnier and add the tangerine peels and the cinnamon. Let the syrup bubble and thicken on high heat (you have to watch it and stir from time to time or it will burn) for 5 minutes, then set aside to cool.
Drop the half tangerines coated in sugar into your sterilised jars (try and fit as many inside a jar as you can without cramming them) and

pour the Grand Marnier syrup over them. Fill the jars with vodka and shake vigorously.
Close the jars: this need to be set to rest for at least a couple of days before serving – or giving it away as a present: these are absolutely gorgeous as presents and kitchen decorations with a little violet ribbon.
Of course you can do this with tangerine segments if you like: they are easier to work with and probably require less maturation time.
You can serve them flambee over vanilla ice cream or over Crepes Suzette, as well as at the bottom of cocktails.
The book recipe, however, maintains its charm. A couple of hours before serving, put the jar in the freezer and shake it from now and then to make sure the vodka doesn't actually freeze.
Serve a couple of scoops of vanilla ice cream with a splurge of crème de menthe on top, a couple of mint leaves and one of the frozen tangerines flambéed.